Child's Backpack With Adjustable Straps
Designed by Yvonne Boucher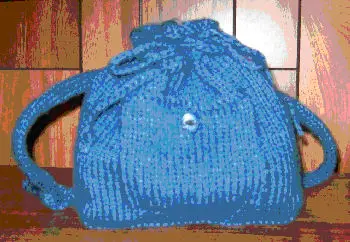 Gauge: About 17 stitches to 4 inches. Gauge is not critical. Just be sure your knit fabric is firm enough the contents do not poke through the finished backpack.
Materials:
2 balls Lion Brand Jiffy
16" circular needle size 8
2 double pointed needles size 8 (optional)
crochet hook size J
one ¾ inch button
Backpack:
Cast on 34 stitches. Knit back and forth in garter stitch ( knit every row) for 22 rows. Base should measure about 8" wide by 2 ¾" long.
Next row: (Right side) Knit across 34 stitches, pick up and knit 10 stitches down short side of base, pick up and knit 34 cast on stitches, pick up and knit 10 stitches of short side. (88 stitches) Put marker on needle. From now on you will be knitting in the round.
Knit until bag measures 8" from last ridge of garter stitch.
Eyelet row: (K 2 together, yarn over) Repeat around.
Knit 6 rounds even. Bind off.
Loops for straps: (Make 2)
Cast on 20 stitches leaving about a 4" tail. Bind off all stitches. Cut yarn leaving a long tail to sew loop to bag. Fold piece in half fornimg loop. Overcast ends together.. Sew loop to back corner of base. Sew securely going through all thicknesses to inside of bag. When loop is secure put tail ends through to inside of bag and tie in a knot. Weave in ends and trim. Repeat for other loop.
Straps:
Preferred method is 6 stitch I cord.
On one double pointed needle cast on 6 stitches. Do not turn. Slide the stitches to the end of the left hand needle, pull yarn across back of work and knit stitches. Again, slide stitches to the end of needle, pull yarn across back of piece and knit stitches Keep knitting in this way until the strap measures 38 inches or desired length. Tug at the strap now and then as you work to align stitches. Bind off.
Alternative method: Cast on 6 stitches. Knit back and forth in garter stitch until strap measures 38 inches or desired length. Bind off.
Pocket:
Cast on 21 stitches. Starting with a purl row, stockinet stitch ( Knit 1 row, Purl 1 row) for 4". End with purl row.
Next row. Knit 10 stitches, yarn over. Knit 2 together, knit 9 stitches. Stockinet 4 rows. Bind off.
Finishing:
Sew pocket to center of front about an inch up from last garter stitch ridge of base. Sew button under buttonhole.
Fold strap in half to determine center. See Fig 1 Pin to center back about three fourths of an inch down from eyelet row. Have straps pointing up toward top of bag. Whip stitch for about an inch down the outside edge of one strap, around the bottom fold and up the outside edge of the second strap for about an inch. Finish off your little triangle of stitching by back stitching across both straps (indicated by solid line). Finish off. Weave in all ends. Put strap end through loop at bottom. Adjust length to fit child and tie in knot. Repeat for other strap. With crochet hook make a chain about 36" long. Starting in center front, weave through eyelets. Pull up to close backpack and tie in bow.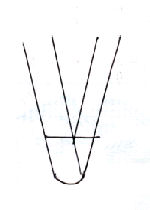 Fig 1
© Copyright 2005 Yvonne Boucher
This pattern is for your personal use only. It may not be reproduced for sale, to conduct classes or to make backpacks for sale.
Home
|
KPC's Free Patterns
|
Site Map
|
Link to KPC
|
Privacy Policy
|
Contact Me
Copyright © 2004- KnittingPatternCentral.com - All Rights Reserved
Background Courtesy of
GRSites.com