Q Power - Wrist Warmer
Designed by Sasha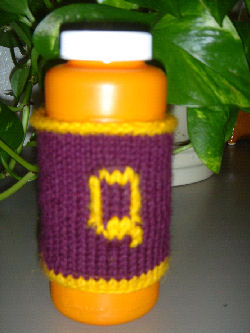 I made this wrist warmer for my friend who goes by "Q". You can use any letter you want in the pattern or email me for help in creating one (I've attached an example of "A" and "S" to demonstrate other options). Or you can forgo using a letter at all.
Sizes: My friend has small wrists so I made mine a bit small. It barely fits my wrist. Feel free to add a few stitches to make it bigger. This one was for a 6.5 inch wrist (use a tape measure to see if you need to add more stitches).
Gauge: 24 sts and 32 rows per 4" in St st. (K1 row, P 1 row)
Materials:
      2 balls (each a different color) of 4-ply/fingering weight yarn (1 will be your main color (MC), the other your contrasting color (CO). I used purple (MC) and yellow (CO).)
      4 double pointed needles size 5 (3¾mm)
      1 yarn needle for weaving in ends
      Tape to measure your wrist (optional)
Directions:
Cast on 39 stitches with CO. Divide between three needles (13 per needle). K in the round.
Row 1: K
(change to MC)
Row 2-6: K w. MC
(If you choose not to use a letter just knit the next 9 rows)
Row 7-15: K18 w. MC work in pattern with CC and continue w. pattern for 8 more rows.
Row 16-20: K w. MC
(change to CC)
Row 21: K
Bind off.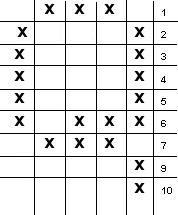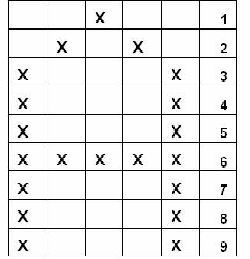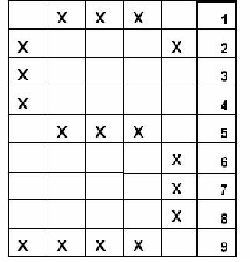 © Copyright 2007 Sasha
Used with permission.
Home
|
KPC's Free Patterns
|
Site Map
|
Link to KPC
|
Privacy Policy
|
Contact Me
Copyright © 2004- KnittingPatternCentral.com - All Rights Reserved
Background Courtesy of
GRSites.com