White Bedazzle Evening Bag
Designed by Sasha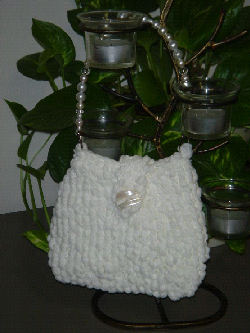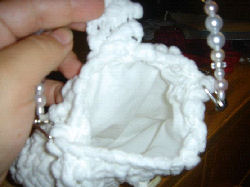 I made this bag to wear to my brother's wedding.
This piece can be knit from the top down; I knit it from the bottom up. Both methods are fine. If you decide to knit from the top down just reverse the directions, increasing where I indicated a decrease.
Gauge: I honestly did not pay attention to the gauge, mine was 4"=14 stiches by 14 rows.
Materials:
      1 ball Jo-Ann (fabrics) Sensations Bedazzle Yarn (50grams)
      5 double pointed needles size 10.5 (6.5mm)
      1 yarn needle for weaving in ends
      1 regular needle to sew in lining
      1 handbag handle (I used a 6½ x 5 inch beaded handle that I bought for $4.99 at JoAnn's fabrics - style # 751-3740 - feel free to use whatever you like, make your own if you like)
      1 button (I used a genuine shell button)
      ½ yard white cotton fabric - you probably won't need more then a 12" x 12" square. (Feel free to use any lining you want, I like cotton because it is sturdy.)
Abbreviations:
      K = knit
      P = purl
      Tog = together
      St(s)= stitch(es)
      St st = stockinette stitch
      SSK= slip next st knit wise twice, k sts tog through back loop
      Yo = yarn over
Bag:
Tip: Because this fabric is unusual, make sure that the fuzzy, cotton ball like parts are on the right side, adjust as necessary.
Cast on 17 stitches onto 1 needle (work in stockinette stitch - K 1 row, P 1 row). Leave a long tail to aid in sewing up the piece later.
Row 1: K
Row 2: P
Row 3: K
Row 4: P
CO 27 sts, 5 on first needle, 17 on the second, 5 on the third (K in the round)
Row 5-12: K in St st
Row 13: K2Tog, K13, SSK, K5, K2Tog, K13, K5
(you now have 15 stitches on the 1st and 3rd needle = 40 total)
Row 14-16: K in St st
Row 17: K2Tog, K11, SSK, K5, K2Tog, K11, K5
(you now have 13 stitches on the 1st and 3rd needle = 36 total)
Row 18-20: K in St st
Row 21: K2Tog, K9, SSK, K5, K2Tog, K9, K5
(you now have 11 stitches on the 1st and 3rd needle = 32 total)
Row 22: P
Row 23: K
Bind off
Clasp:
Pick up four sts in the middle of the bag
Row 1-4: St st (if you want to make the clasp longer add a few rows here)
Row 5: K2, Yo, K2
Row 6: P
Bind off
Button:
Sew in button exactly where the "Yo" on your clasp lands when you fold it over. Mine was approx. 1.5 inches from the edge.
Finishing:
Connect the bottom of the piece with the Sts you CO on row 5 using a :fake grafting technique: or whatever you like to use.
Lining:
Cut a 6 x 6 size piece of fabric (cut down or up depending on how large or small your bag turned out), sew up the sides, turn inside out and sew inside the bag. Make sure to fold down the edges at the top so it does not fray. I am not an expert in this. I used white thread, leaving perhaps a ¼ of an inch of space from the top of the bag. Good luck with this process for I can be no help to you.
Straps:
I have no good advice to offer on the straps except to make sure they are securely fastened to the bag. Use small loops around each strap end and the first row of the bag's edge. I used about 4-5 small loops.
Finishing:
Weave in all ends and enjoy!
Pattern and pictures Copyright © 2005, Sasha's Yarn ball
Feel free to use and distribute freely, but do not alter or sell.